Mobile Web Design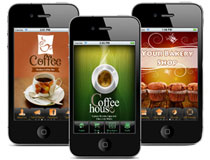 Before a decade, there is a trend to browser any website on computer. But before few years the trend is change the scenario of website. Now you can browse your website on mobile also. Now most of the websites you can see on your smart phone, they are used this trend to grow their business and now it's your turn to grow your business through the mobile website design.
You must have raised one question that is this new trend really suits for every mobile? The answer is YES. As per the new website design era, your website can automatically adjust and fit to any handset screen, whichever your user have from Android, iPhone or iPad. The second question you may ask that how many users have smart phone to see your website? The answer is development in mobile phones also. Now you can see every 6 person out of 10 have smart phone. And as technology move ahead, there will be sure most of the people have smart phones.
Responsive Teqnologies develops light weight and search engine optimized websites suits to mobile screens. The page loading time is also less, so your audience can easily navigate from one page to another. The images, fonts and menus will automatically adjust according to device and gives attractive look.
In mobile websites text can easily read without zooming manually. Even you can click on the link given on the content body. This website gives your business a professional look which is beneficial to make your brand name in the market. Even user can see your location on the home page. In this fast moving life, less people have time to access their PC in leisure time. Meanwhile, they can access your mobile website in the way to go for office or home. They are in search of places for vacation, getting solution quickly of their answer and most habitually searching for best deal on various items.
How Mobile Website is Useful ? :
Mobile websites adjust according to resolution of the device screen and give best user surfing experience.
If you have shopping cart business then you must have mobile website. Because now a days every person has not that much time to come at your store, see and choose their needed things. So they can browse your website on their device and purchase thing directly without going anywhere.
Mobile website is easy to navigate, device flexible, advance features included social media at affordable price quote.
Websites like blog and news have more contextual data than image, so these website can easily match with handset loading speed.
Your website can get rank through mobile website recommended by search engine like Google.